Hiking
all around Imst & Tarrenz
Explore the diverse and exciting hiking trails of Tyrol. With a little luck, you will also encounter some local animals like marmots, ibexes, or chamois.
Tarrenz and the entire outdoor region of Imst is known for its wide range of hiking and walking trails.
Rosengartenschlucht Gorge

One of the highlights is the Rosengartenschlucht Gorge in Imst, which is considered one of the most beautiful gorges in Tyrol. For 1.5 km (0.9 miles), the stream runs through the rocky terrain and leads you up to Hoch Imst. The one-hour walk takes you over wooden bridges, stone steps, and through hollowed out rocks. The Rosengartenschlucht gorge offers a true natural wonder for young and old.
Tyrolean long-distance hiking trails

The Starkenberg Panorama Trail leads in seven stages through the Gurgl valley and the Oberinntal valley. Section three ends just above Tarrenz. Our hotel is perfect for a relaxing overnight stay.
Another recommendation is to explore the Adlerweg (Eagle's Path), which runs from east to west through all of Tyrol and leads along hiking trails in the outdoor region of Imst.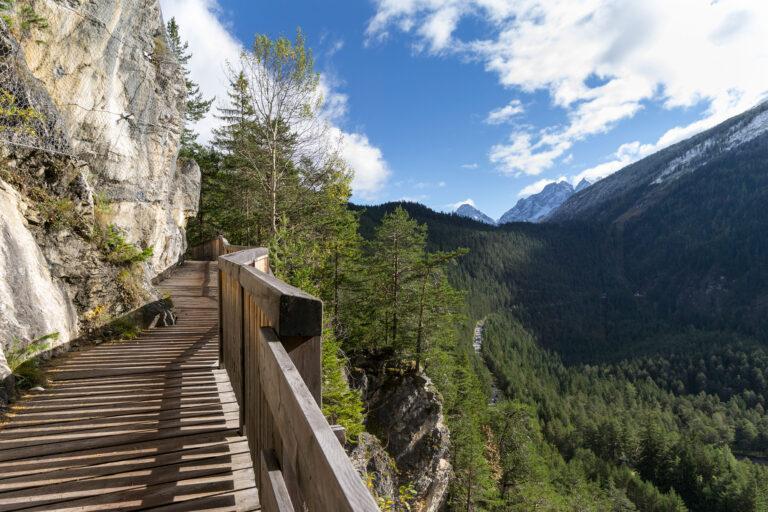 The surrounding alpine pastures and cabins are always worth a visit. They invite you to stop in for a break on numerous hiking trails. Let the innkeepers spoil you with Tyrolean delicacies and enjoy the magnificent mountain panorama.
Our cabin tips:
Happi's Hütte Tarrenz (20 minutes' walking distance from the hotel; walk also possible with stroller; access also allowed by car)
Karröster Alm (elevation: 1,467 m / 4,813 ft)
Maisalm Roppen (1,646 m / 5,400 ft)
Tarretonalm Tarrenz (1,579 m / 5,180 ft)
Latschenhütte Imst (1,632 m / 5,354 ft)
Website