Biking
all around Imst & Tarrenz
The area around Tarrenz is focusing more and more on vacation experiences around cycling. Whether you prefer a mountain bike, e-bike, or racing bike, in Tyrol you're sure to find the perfect route for an exciting day on two wheels.
Especially the Innradweg and the bike path along the Via Claudia Augusta offer you a spectacular panoramic view and numerous natural highlights.
Imster Almenrunde round trip

For action lovers, there are more challenging tours to our mountain lodges. We especially recommend the "Imster Almenrunde." This bike tour starts at the parking lot in Hoch Imst and leads to the Latschenhütte via the Obermarkter Alm. Then it goes through the forest down to the Untermarkter Alm. From there, a rapid descent takes you back to the starting point.
For additional tour recommendations, please contact us at any time.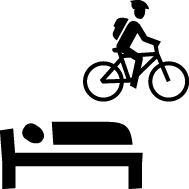 Qualified bicycle and motorcycle accommodation

To make your vacation as pleasant as possible, enjoy the benefits of a qualified bicycle and motorcycle accommodation.
Breakfast of champions (fruit, muesli, etc.)
Storage room for bikes (lockable and theft-insured)
Bike rack in front of the building
Marked washing place (water hose, car wash brush)
Small bike repair package consisting of: pump for all common valves, repair kit, incl. tire levers, lubricant, and basic assortment of tools (Allen key set,
open-end wrench set, screwdriver, Torx)
Facilities for washing and drying bike clothing, or washing and drying service
Bicycle/motorcycle info corner with the following information:

Cycling/biking map of the region
3 bike or mountain bike tour descriptions with map section for free use
List of bike repair stores, shops, rentals + opening hours / addresses
List of bike schools / bike guides + opening hours / addresses
Schedule / hours of operation for public transport / cable cars with bike transport
Trade magazines (BIKE Magazine, Bike Sport News, Trekking Bike, etc.)
Weather information: current weather forecast with 3–5 day preview